Thursday, June 4th
2:15 pm - Faye Driscoll-performance followed by a 15 minute live discussion.
3:30 pm - Lisa Parra-performance followed by a 30 minutes live discussion.
Register on Eventbrite for event links.
Faye Driscoll is a Bessie Award-winning performance maker who has been hailed as a "startlingly original talent" (Roslyn Sulcas, The New York Times) and "a postmillenium postmodern wild woman" (Deborah Jowitt, The Village Voice). Her work has been presented nationally at the Wexner Center for the Arts, Walker Art Center, The Institute for Contemporary Art/Boston, MCA/Chicago and BAM/Brooklyn Academy of Music and internationally at La Biennale di Venezia, Festival d'Automne à Paris, Croatian National Theatre in Zagreb, Melbourne Festival, Belfast International Arts Festival, Onassis Cultural Centre in Athens and Centro de Arte Experimental in Buenos Aires. Her most recent performance, Space, was the final live work in her Thank You for Coming trilogy. Space is a moving requiem on art, the body, loss and human connectivity, and was celebrated as "an exhilaratingly personal culmination of the series" (Miram Felton-Dansky, Artforum). Her first-ever solo museum exhibition, Come On In, opened at Walker Art Center in February and remains on-view until June 2020. The installation offers gallery-goers an experience of six distinct audio-guided choreographies. When she isn't making performance worlds of sensorial complexity in which viewers feel their own culpability as co-creators, she is choreographing for plays and films, including the Broadway production of Young Jean Lee's Straight White Men, and Josephine Decker's award-winning feature film Madeline's Madeline.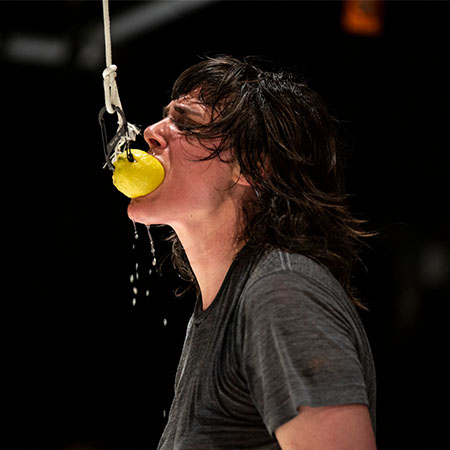 ---
Lisa Parra is a New York based choreographer and performer. Her work has been presented in New York at Center for Performance Research, Movement Research, New Dance Alliance, Triskelion Arts Center, Green Space, and Experimental Media and Performing Arts Center. Internationally, her work has been presented in Portugal at Centro para os Asuntos de Arte e Arquitectura in Guimaraes, Fábrica de Movimentos in Porto, and DVIR CAPa in Faro; at the Performática Dance Festival in Puebla, Mexico; in Spain at Gracias x Favor festival at the Teatro Pradillo in Madrid, Bilbao Eszena in Bilbao and in Barcelona at the IDN Festival. Lisa is currently an Artist in Residence at Movement Research, supported by the Mertz-Gilmore foundation. She has also received additional support by Experimental Media and Performing Arts Center in Troy, NY, Centro de Artes Performaticas do Algarve in Faro, Portugal, Media-Lab Prado, Teatro del Canal in Madrid, and at Bilbao Eszena in Bilbao, Spain. In addition to her own work, Lisa works with artist Daniel Pinheiro on an ongoing research project LAND that focuses on network performance and embodiment. And, has performed in works by Karen Bernard and French theater artist Pascal Rambert.